Buy Inverter Batteries Online in Nigeria
Kara offers many models of the deep cycle or AGM inverter batteries in Nigeria. So those looking for competitive inverter battery prices should contact us. We offer wholesale distributor and retail prices.
Inverter batteries are a type of battery designed to handle the power requirements of a power backup supply system. It is different from a normal car battery or any other battery. Although a car battery can be used with an inverter this is not advisable. Inverter Battery Price in Nigeria starts at around 35,000 Naira.
commercial applications power generators 12v inverter advanced battery management inverter in nigeria luminous eco volt pure sine wave
How is an Inverter Battery Different
Power inverters are devices that convert DC current from a battery to AC current for our home or office appliances. So, under normal operation, an inverter will require a large amount of current to supply your appliances over a long period of time. This means that a battery used for an inverter must be able to supply a reasonable amount of current over long periods of time.
Type of Inverter Batteries (Deep Cycle Battery vs Starter Battery)
These are deep cycle batteries. It is designed to discharge most of its capacity unlike a starter battery (car battery) that is designed to deliver a high amount of current over a short time to start the engine.
A deep cycle inverter battery can discharge a large proportion (40% to 80%) of its charge many times and still be fully charged. A car battery on the other-hand requires charging once it does its job and if deeply discharged will die much faster than a deep cycle inverter battery. luminous inverter price
While a deep cycle inverter can last 2 to 3 years when used with a power inverter a car battery will struggle to go 6 months.
Battery Features
The first feature of a battery is that it has to be the deep cycle type. This will ensure it supplies the required power without reducing the longevity of the battery.
Types of Inverter Batteries
You basically have two types of inverter battery to choose from; the sealed-maintenance-free (SMF) battery and the tubular battery. The SMF battery is the most convenient type of battery. You just connect it and forget it as it requires no maintenance. It is also safe indoors since it is sealed and emits no harmful gases. It usually lasts 2 to 3 years.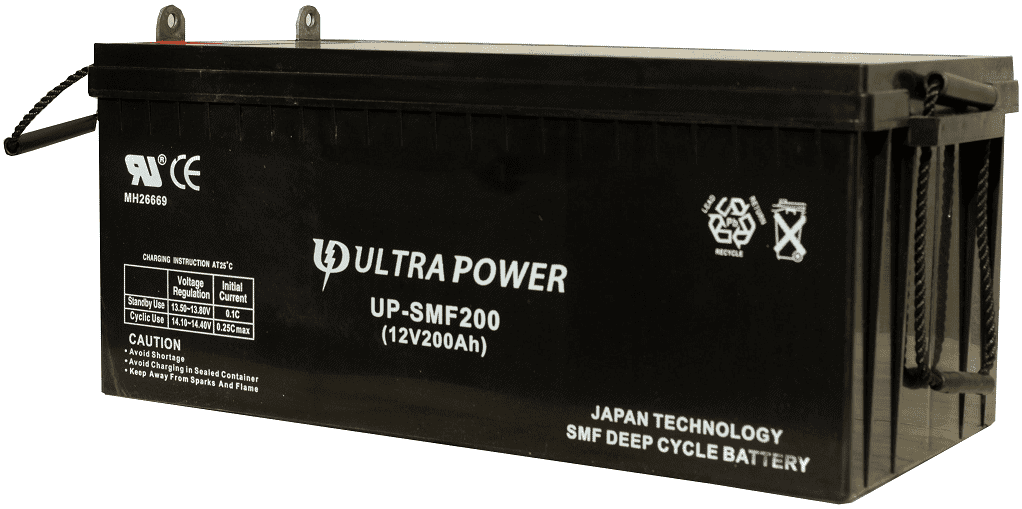 A 200Ah SMF Battery great for your Inverter
Tubular batteries are more complicated and require little maintenance. Unlike the SMF battery that you install and forget, you need to remember to at least top up the water of your tubular battery (like every 6 months or as needed). inverter battery price  inverter battery price in nigeria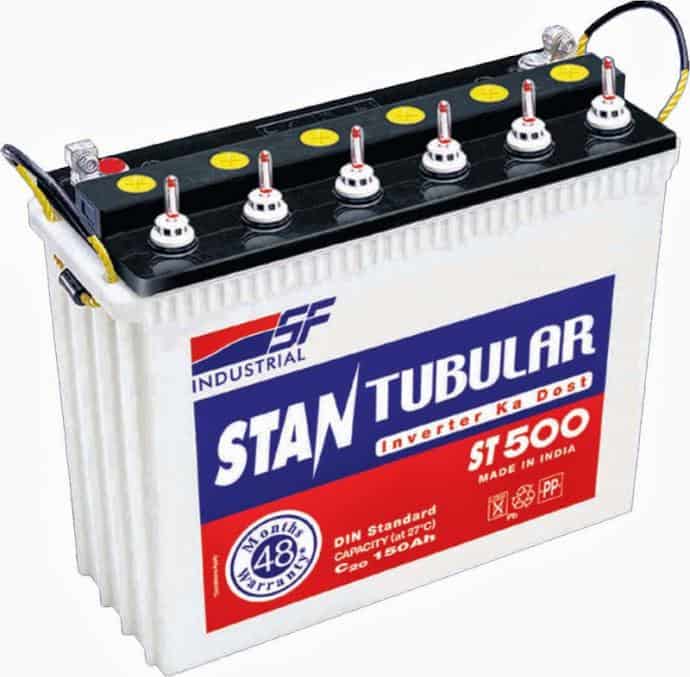 Having said this, I have to make it clear that a tubular battery is not the same as a normal car battery, they are in fact deep cycle battery which makes it suitable as an inverter battery.
Because a tubular battery is not completely sealed and may emit some gases during normal operation, I will not advise that you install a tubular battery indoors. It will be better outside where there is good ventilation.
Inverter Battery Capacity
The energy capacity of the battery is measured in Ampere-Hour (AH). 100AH and 200AH are the most popular capacities of a 12V inverter battery in Nigeria, but you may also see values like 150AH and 210AH.
You can also find 2V battery for inverter and solar applications rated at 500 AH, 1000 AH, and 1500 AH. The 2V types are used in solar inverter applications or in applications where space economy is important. Such portable batteries can be easily mounted on racks.
Therefore, the capacity of an inverter battery determines how-long your inverter can supply backup power. For example, if a 100AH battery can supply a given load for 4 hours, a 200AH battery will power the same load theoretically for 8 hours.
Best Inverter Battery Brands
There are many inverter battery brands in Nigeria to choose from with varying degrees of quality. Your best bet is to stick with products from inverter manufacturers.
Best Inverter Battery brands in Nigeria include Luminous, Mercury, Sukam, Quanta, Prag, Bluegate, MultiPower, and Nexus. You can buy any of these brands if you want a reliable system.
solar power, peak power, power system, square wave, grid tied inverters, 12v 200ah, pure sine wave inverter, electric motor, power failure, power source, electronic device, solar panels.
Shop for Inverter Battery
Get the best price on inverter batteries from kara.com.ng with the best and fast delivery to any location in Nigeria. The price of the 100AH inverter battery starts at around 55,000 Naira, while a 200AH inverter price starts at around 102,000 Naira.

We also offer advice on how to connect inverter batteries through our professional inverter battery installation teams. Whether you are in Lagos, Abuja or other cities, Kara would deliver your inverter batteries to you. If you need a detailed comparison of the inverter batteries you may contact us. You need to know about the weight of the inverter battery and its forecasted life cycle would allow the best performance information. The combination of the inverter charging capability and the battery capacity would determine how fast your battery is charged and discharged. So you should ensure you select quality inverters or chargers for your battery.

 inverter battery price  inverter battery price in Nigeria

 

inverter battery brands online shop deep cycle battery sealed maintenance free smf battery distill water withstand deep discharge fully charged

DELIVERY TIME:

Delivery within: 24hrs - 48hrs for within Lagos while outside Lagos is 5-7  working days.

 WARRANTY:

Manufacturer Warranty

RETURN POLICY:

https://www.kara.com.ng/privacy-policy-cookie-restriction-mode

?>